Explosive Enema Session In Tiny Shiny Bottoms and MissAnja  2020 [FullHD 1920x1080] [2.02 GB]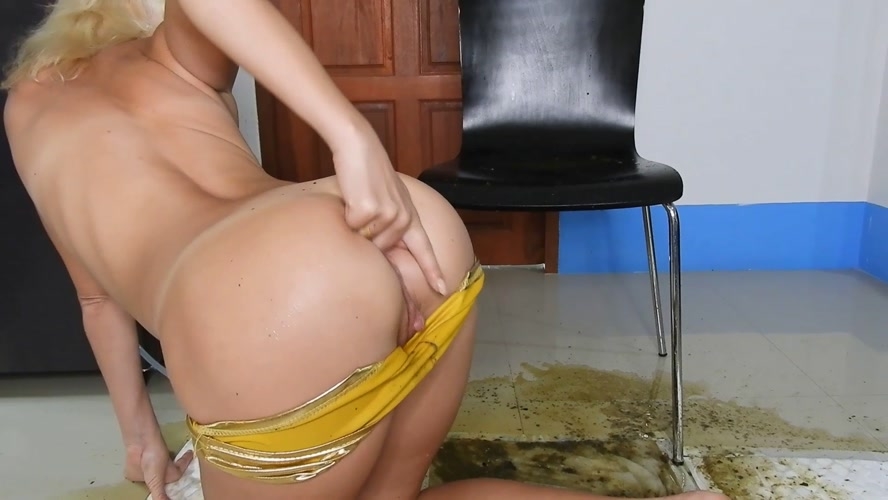 Genres:
MissAnja, scat solo, scat, defecation, scatology, poop, shit, kaviar scat, pooping girls, shitting girls, shitting ass, scat girls, poop videos, amateurs scat, dirty anal, scat porn
I wear a super sexy tiny shiny gold bottoms on. I'm ready to make such a huge enema mess in shorts and on the floor, cleaning out my dirty ass as well. At beginning modeling in the shiny bottoms, flashing my ass and get on my knees to start with the first round of enema. I try to take as much water as I can in every round. I felt full quickly, bloated and discomfort in belly. Moaning and suffering so badly. First round has been released backward sit on a chair. Explosive, and dirty. I also had laxatives few hours before to make my shit even more runny. I do repeat several times the enema session, take almost 3 big bag of enema until I felt my ass got cleaned out. During the session I try to release the enema in different positions like sitting backward on chair, standing slightly bend over, on my knee bend on the chair for example. My purpose was biggest mess and water squirting out of my bottoms. I moaning a lot of the pain and desperation. I show off my dirty ass underneath shorts and fingering myself as well to produce farting and even more loud enema. At the end I show you that huge mess under my chair.
Time:
00:28:19
Quality:
FullHD 1920x1080
Format:
MPEG-4
File Size:
2.02 GB
Rare Scat Download - Explosive Enema Session In Tiny Shiny Bottoms and MissAnja  2020 [FullHD 1920x1080] [2.02 GB]