Shit and Blood Vol.7 Part 2 and Anna Coprofield 2019 [FullHD 1920x1080] [1.85 GB]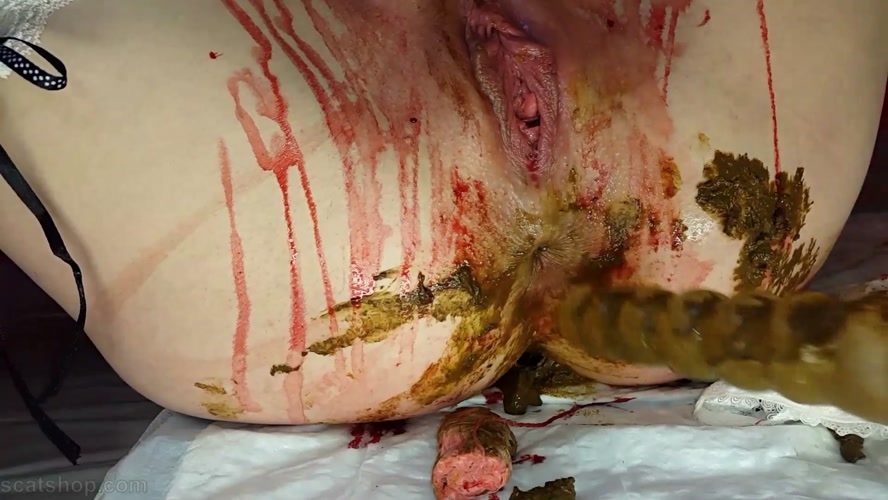 Genres:
Anna Coprofield, scat solo, scat, defecation, scatology, poop, shit, kaviar scat, pooping girls, shitting girls, shitting ass, scat girls, poop videos, amateurs scat, dirty anal, scat porn
The best quality video is divided into 2 parts. Full compressed version is also available (55:42min)
I kept the tampon in my pussy all night and put on white panties after a shower today, the tampon string was clean only for a short time. I take out the tampon and gently squeeze it to keep the blood inside because I will need it later. Pushing my panties aside, I fuck my pussy with a glass toy while blood is flowing. I keep fucking my bloody pussy and shit, fuck ass and insert panties in pussy. Oh, a lot of blood leaked from tampon while it lay on the floor but it's okay, I dipped a tampon into this blood and then press the tampon and drip blood on the pussy, fuck my pussy and ass with my dirty toy, rub my clit and cum so fast.
This beautiful piece of shit was waiting for my pussy for a very long time so I fill my sweet hole and smear shit on my ass and pussy then I let out my shit right on the panties. A small amount of shit still left deep in pussy so I take out the remnants of shit with my fingers, put on panties and smear all that shit on my ass and pussy…
Time:
00:28:25
Quality:
FullHD 1920x1080
Format:
MPEG-4
File Size:
1.85 GB
Rare Scat Download - Shit and Blood Vol.7 Part 2 and Anna Coprofield 2019 [FullHD 1920x1080] [1.85 GB]