Perversion needs no Words (Double Scat & Ass Worship) and MissMortelle 2022 [FullHD 1920x1080] [1.99 GB]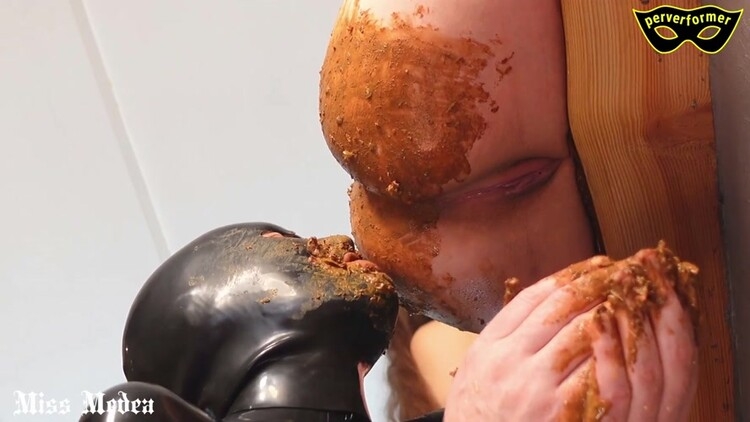 Genres:
shitting girls, scat tits, dirty lesbians, double penetration, farting pov, shit kisses, dildo fucking, cosplay, diaper, girl puke, scat couple, groups scat, pooping jeans, thailand scat, female desperation, poo alexa, foot fetish, eat vomit slave, food from shit
This clip shows dangerous Ass Teasing & mind-blowing Rimming with a lot of Scat! Two beautiful asses will seduce you. It doesn't take many words for you to understand: There is something very perverted going on here. Yara and I make our hips circle, grab each other's butts and spit in each other's ass crack. Then we climb on the bar and continue to put our divine asses skillfully in scene. It is clear that we are into each other and have no inhibitions about showing ourselves from behind. Now you may admire our butts from below. You are directly under our assholes and we are making you hornier and hornier. A servant wrapped in latex enters the picture. Through gestures we make him understand that he has to worship our asses. He shall stick out his tongue and lick Yara's butthole and then mine. We settle for nothing less than extensive rimming and you get to see all of this perverted butthole licking from up close! Now we instruct our perverted servant Cosmo to put his hands under my ass. He has to catch the gifts from my sexy ass with bare hands! Slowly I push out my shit sausage into his hands. Yara pushes my huge portion of shit immediately into Cosmo´s face. He has to smell and taste my shit now. I put my shit into his mouth and even his gagging doesn't stop me from encouraging him to eat it. My turd is really oozing out of Cosmo's mouth. Now we decide that Cosmo may smear Yara's sexy ass with it. The three of us rub her butt with my shit. Yara pees now and then she shits a firm scat portion. I place her shit directly into Cosmo's mouth and put my hand on it. The shit must stay inside. Then we also also want him to suck Yara's dirty ass while he has her shit in his mouth still. Finally, we allow him to smear Yara's shit on her butt. Now he can lick it again! Cosmo is far from licking Yara´s ass clean, because that would be completely impossible. Meanwhile Cosmo has stained his black latex catsuit with shit. Yara orders him to jerk off while licking her dirty asshole. Cosmo finally jerks off into his shit smeared hand and eats his own cum under Yara's coercing instruction. This clip with Yara & Cosmo from perverformer has become a real masterpiece in my opinion. 3 camera angles, 3 perverted performers and 2 divine Goddesses with dirty minds and perfect asses.
Time:
00:27:54
Quality:
FullHD 1920x1080
Format:
MPEG-4
File Size:
1.99 GB
Rare Scat Download - Perversion needs no Words (Double Scat & Ass Worship) and MissMortelle 2022 [FullHD 1920x1080] [1.99 GB]