Lick my shitty feet 2020 [FullHD 1920x1080] [2.32 GB]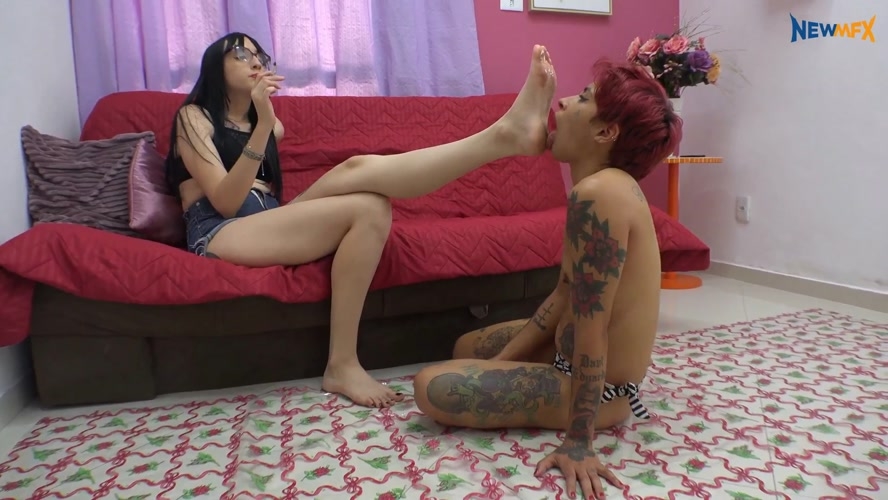 Genres:
scatting domination, femdom scat, shitting, toilet slavery, defecation, scat swallow, shitting porn, poop smear, scat porn
Penelope knows what she wants for today, she just wanna have fun and will do that humiliating her slave Cleopatra, there is no reason, just because she is a slave and need to treat like that, as a garbage. Penelope goes to outside barefeet, she knows that is dirty and Cleopatra supposed to clean it, but she had no time. Cleopatra start smoking and rubbing the feet on dirty floor until gets the soles in black. Now, it's time to have fun, she goes inside and call to Cleopatra, order to go on knees and look to her beautiful feet, they are white but no this time, take a look at my soles she said. Do you want my feet in your mouth???? Cleopatra answers: yes my queen, I want to serve you. So Penelope start cleaning the dirty soles over her mouth and face, until she gets the feet cleaned again. But something is not good, Penelope doesnt like of Cleopatra's face while she is licking her dirty soles. "any problems "she asked and with a ugly face, Cleopatra said, no my queen. But Penelope know it's not good and decided to show to Cleopatra that it can be harder, she did a big scat on her body, spread the feet on it and order to the salve clean. "Now you want to clean all shit from my feet" said the queen. Poor cleopatra, she will use her tongue to clean it. without complain.
Time:
00:32:51
Quality:
FullHD 1920x1080
Format:
MPEG-4
File Size:
2.32 GB
Rare Scat Download - Lick my shitty feet 2020 [FullHD 1920x1080] [2.32 GB]